【YAMAHA】YCP10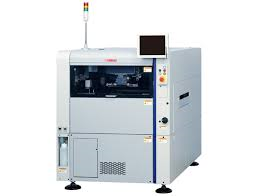 Feature
Printing quality similar to flag ship models, compatible with large circuit boards and a wide variety of stencil frames.
Built-in features from high-end machine models deliver high print accuracy and quality!
Multiple functions and extreme versatility all wrapped into 1 compact unit!
Support for Yamaha SMT production line network, delivers highly efficient production.
Specifications
YCP10
Applicable PCB
L510 x W460mm to L50 x 50mm
Printing head
3S head (3S : Swing Single Squeegee)
Double squeegee head (Option)
Printing accuracy
Positioning repeatability (6σ) : +/- 0.010mm
Cycle time
8sec (Standard printing : under optimum condition, except for printing time)
Applicable stencil size
L750 x W750mm, L736 x W736mm, L750 x W650mm,
L650 x W550mm, L600 x W550mm (Option),
L550 x W650mm (Option), L584 x W584mm (Option)
Power supply
Single-phase AC 200/208/220/230V +/- 20V 50/60Hz
Air supply source
0.45MPa or more, in clean, dry state
External dimension
L1,130mm x W1,760mm x H1,370mm
Weigh
Approx. 1,100kg
Specifications and appearance are subject to change without prior notice.