【Roland DG】monoFab SRM-20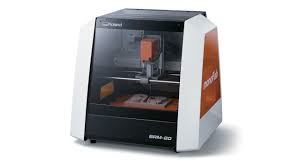 As a small milling machine, the SRM-20 offers compact size and powerful functionality at an affordable price. Production of realistic parts and prototypes is made simple and convenient with a device that fits into any office, home, or classroom environment. For users looking for advanced milling capabilities without the need for expert operating skills, the SRM-20 is the easiest and most precise CNC mill in its class.
Feature
Milling Made Easy with a User-Friendly VPanel
The SRM-20's VPanel controller provides a simple interface for adjusting tool position and moving the cursor to set the milling starting point. The VPanel also allows easy control of feed rate and spindle speed with pause and resume operation, plus tracking of X,Y,Z axis milling with a numeric readout in millimeters or inches.
Independent Collet System for Efficient Milling
It's no longer necessary to change spindles every time there's a different end mill shank diameter. Now you can replace the collet chuck in order to match the shank diameter for fast setting of the Z-axis base point and for quick tool changes.
The Clean Machine
The SRM-20 has a fully-enclosed cabinet that reduces dust and noise and features a side-window for easy progress viewing. It also features an intelligent safety interlock to that automatically pauses the machine when the cover is opened, permitting milling to resume upon closing the cover and selecting "continue".
Smart Yet Rugged
The SRM-20 includes the very latest CNC milling features such as airtight sealing technology to prevent waste material from getting inside the spindle and Y-axis, making it resistant to the effects of milling debris and adding durability for long-term operation.
Specifications
MODEL
SRM-20
Cuttable Material
Modeling Wax, Chemical Wood, Foam, Acrylic, Poly acetate, ABS, PC board
X, Y, and Z Operation Strokes
8 (X) x 6 (Y) x 2.38 (Z) inches,
203.2 (X) x 152.4 (Y) x 60.5 (Z) mm
Workpiece table size
9.14 (X) x 6.17 (Y) inches,
232.2 (X) x 156.6 (Y) mm
Distance From Collet Tip to Table
Maximum, 5.15 in
(130.75mm)
Loadable Workpiece Weight
4.4 lbs (2kg)
X-, Y-, and Z-Axis Drive System
Stepping motor
Operating Speed
0.24 – 70.87inch/min,
6 – 1800mm/min
Software Resolution
0.000039 inches/step (RML-1), 0.000039 inches/step (NC code),
0.01 mm/step (RML-1), 0.001mm/step (NC code)
Mechanical Resolution
0.0000393 inches/step,
0.000998594 mm/step
Spindle Motor
DC motor Type 380
Spindle Rotation Speed
Adjustable 3,000 – 7,000 rpm
Cutting Tool Chuck
Collet method
Interface
USB
Control Command Sets
RML-1, NC code
Power Requirements
Machine: DC24V, 2.5A,
Dedicated AC adapter: AC 100-240V ±10%, 50/60Hz
Power Consumption
Approx. 50W
Operating Noise
During operation: 65 dB (A) or less (when not cutting),
during standby: 45 dB (A) or less
External Dimensions
17.76 (W) x 16.80 (D) x 16.78 (H) inches,
451.0 (W) x 426.6 (D) x 426.2 (H) mm
Weight
43.2 lbs, 19.6 kg
Installation Environment
Temperature of 41 to 104 °F (5 to 40°C),
35 to 80% relative humidity (no condensation)
Included Items
USB cable, AC adapter, Power cord, Cutting tool, Collet, Set
screw, Spanners (7,10mm / 0.28, 0.39 inches), Hexagonal
wrench (size 2,3 mm / 0.059, 0.12 inches), Positioning pins,
Double-sided tape, Start-up page guidance card