【ETC】Vacuum Reflow Equipment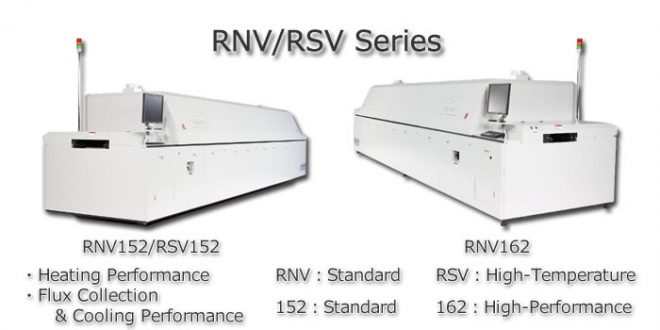 Feature
・Significantly decreased the void
With combine the solder, the void space can be saved maximum less than 1%.Improved the electrical characteristics and the connection reliability of the product.
・In-line type for mass production
Min. 30 sec tact speed time for mass productions.
・Convection heating system
One time soldering and vacuum reflow on the double face PCB, the void can be decreased.The metal PCB with the heat sink of aluminum can be solder.The temperature variations less than the hot plate heating system, the reflow time can be shorten.
・Ultra low power consumption to promote saving energy.
・ Large-capacity flux collection unit to increase operation hours
The cleaning flux frequency several times a year.162 model is excellent collection performance.
・ This equipment can use for N2 Reflow Equipment.
Specifications
Model No.
RNV152M / RSV152M / RNV162M
-512-WD
-512-LE
-612-WD
-612-LE
Heating Zone
5
6
Vacuum Zone
1
Cooling Zone
2
Power
AC200V 3Φ
Start up Power
Max. 36kW (39.5kW)
Max. 43kW (46.8kW)
Normal Power
Approx. 8kW (Approx. 12.5kW)
Approx. 10kW (Approx. 14.7kW)
Heating Temperature
RNV:Max 280℃ RSV:Max 350℃
Vacuum
1 ~ 12kPa
N2 Consumption
Approx. 24m

3

/h
Approx. 18 ~ 24m

3

/h
Approx. 24m

3

/h
Approx. 18 ~ 24m

3

/h
Dimension
Length
5,406mm
(5,151mm)
5,871mm
(5,951mm)
5,741mm
(5,486mm)
6,286mm
(6,366mm)
Width
1,350mm (1,510mm)
Height
1,500mm
PCB
Width
100 ~ 330mm
100 ~ 250mm
100 ~ 330mm
100 ~ 250mm
Length
100 ~ 250mm
100 ~ 330mm
100 ~ 250mm
100 ~ 330mm
Component Height
Upper:30mm  Lower:30mm (from chain top)
Flux Collection
Standard Equipment:Large-capacity flux collection unit by air-cooled.
(Large-capacity flux collection unit by water-cooled.)
※( )is for RNV162M model