【OMRON】Mobile Robots LD series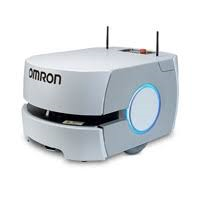 Feature
Self navigating Autonomous Intelligent Vehicle (AIV)
The Omron LD Mobile Robot is a self navigating Autonomous Intelligent Vehicle (AIV) designed for dynamically moving material in challenging environments that may include confined passageways as well as dynamic and peopled locations. Unlike traditional autonomously guided vehicles (AGVs), Omron Mobile Robot requires no facility modifications, such as floor magnets or navigational beacons, saving users up to 15% in deployment costs. The LD includes Omron's proprietary software and controls allowing it to intelligently navigate around people and unplanned obstacles, that render traditional AGVs incapacitated and it can be programmed and functional within a day. Designed for developers, integrators, and end-users the system can be customized for a variety applications and payloads. Manufacturing, warehousing, clean tech, and laboratories are just a few environments ideal for the mobile robot.Product Features
Self-navigation software safely avoids people and obstacles
Reliable drive system optimized for self-navigation
Structural support of payloads up to 130kg on level surfaces
Navigates through the use of a digital map
Easy to deploy, no facilities modifications required
Manages power and self charging operations
Benefits
User-friendly software
Runtime of up to 19 hours a day
On-board power supply
LD Series Mobile Robot
Omron mobile robots are fully safety compliant. They use an onboard laser and other sensors to detect obstacles in their path and, based on speed of travel, trigger an E-stop to prevent vehicle collision.
Sensors:
Safety Rated Main Laser
Lower Laser
Side Lasers (Patented)
Front Bumper
Rear Sonar
Rear Laser
1 Safety std: ISO 12100, ISO 14121-2, ISO 13849-1, IEC61010(battery only), IEC 60950(battery only), EN 1525, ANSI B56.5 Part 3, JIS D6802, IEC 60204
Mapping and Navigation
Robust Navigation with LD Acuity Localization.
Acuity provides an additional method of "localization" to the onboard laser, to allow the robot to operate in frequently changing environments. It identifies overhead lights and overlays the "light map" with the "floor map" It also allows the robots to move easily across wide-open areas in large warehouses.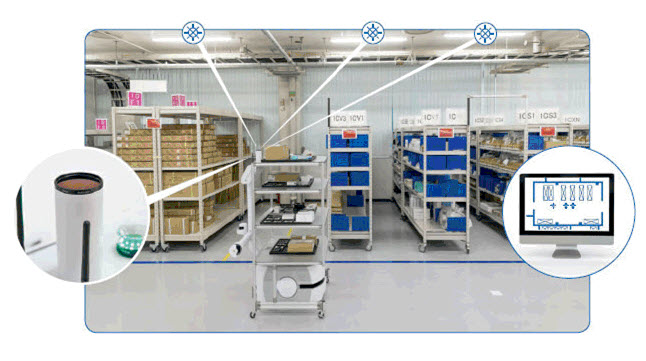 ESD Mobile Platform
Our LD Electro-Static Discharge (ESD) Skin is a protective measure to protect both the robot and ESDS (ESD Sensitive) items within the environment to which the robot operates from damage due to the buildup and discharge of static electrical energy created by field strengths.
Protection for field strengths above approximately 40 kV/cm of air
Skins designed to resist the static build up
100% compatible with existing standard LD robots, optional skin sets are also available
Protection for both the robot and Electrostatic Sensitive Discharge Sensitive (ESDS) items
Specifications