【SAWA CORPORATION】 SC-ENX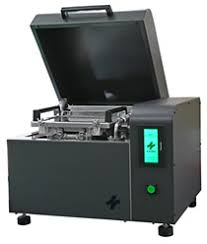 Double cleaning power by ultrasonic and vacuum brings excellent solution.
Feature
SC-ENX can clean 80 nozzles at one time.
We offer a wide range of nozzle holders suitable to the mounter manufacturers.(Some nozzle holders may not fit to the cleaner.)
Technology of ultrasonic and vacuum system brings perfect cleaning because ultrasonic water passes through completely into every nozzle opening by vacuum state.
There are almost no damage to nozzles by not to splash water to the reflector.
Use "Purified Water" for regular cleaning.
For PRE-CLEANING of the persistent solder or dirt, use our recommended "Alkaline Electrolyzed Water".
Specifications
Product No.
SC-ENX
Outside dimention
W:500×D:511×H:353㎜
Weight
28.5kg
Power
AC100.110,120,220,240V 50/60Hz
Power consumption 30VA
Ultrasonic
40kHz 9W
Air
0.3MPa 180NL/min(Peak)
Minimum requirement of solvent
1 liter(Tank capacity:4L)
Liquid
Purified water
Cleaning/Air vacuuming time
Approx. 5min/Approx.5min
Compartible Maker
YAMAHA,Panasonic,JUKI,Fuji,etc…
Please feel free to ask us.