【SAWA CORPORATION】SC-AH100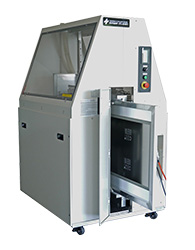 Metal Stencil Cleaner SC-AH100E-LV
Less damage to metal stencil.
Huge Running Cost Reduction!
Low VOC Solvent!
Feature
Reduction fo VOC emission
Using Low VOC solvent can reduce organic solvent consumption that harms human health and environment.
Running cost 55% reduction
Low volatility of solvent can contribute to low running cost.
Cleaning+Drying=5minutes!
Simultaneous process of cleaning and drying can realize a high-speed cleaning.
Specifications
Procuct No.
SC-AH100E
Outside dimension
W:880×D:1,100×H:1,666 ㎜
(Including projecting parts.)
Weight
230kg(Dry weight)
Applicable stencil siza
550×600㎜※1、550×650㎜※1、
736×736㎜
Power
AC110,120,220,240V 50/60Hz 500VA
Ultrasonic
40kHz 300W
Air
0.4MPa 650NL/min
Exhaust duct
5.5m/sec
Diameter φ98㎜
Cleaning agent
HA-2789U
Cleaning/Drying time
Approx.5min/Cycle※ 2
※1 Adapter required
※2 Time may differ depending on condition
FCC compliant models is available. Please ask for details.