【MUSASHI ENGINEERING】COATING MASTER FCD 1000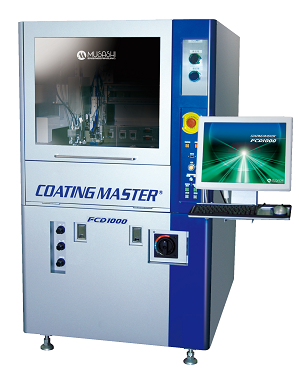 Full Automation Substrate coating device
Non-contact, no scattering automatic coating
Masking is not necessary and, without scattering, controls spot coating freely from wide area.
・Superior dispensing reproducibility by image recognition standard Equipped.
・We can cope to medium size Substrate Max.250 X 330mm.
・Combination is possible from in-line type to loader / unloader type.
Specifications
Model
FCD1000
Work size
Width: 30mm – 250mm
Length: 50mm – 330mm
Equipped dispenser
CV-10
AeroJet
Programmed input method
MUCADIII
Exterior dimensions
W860×D1,100×H1,500mm
Weight
350 kg
Power supply
200V, 20A
※Available work size fluctuates by optional to choose. Please refer for the details.