【nagaoka】NCXS-250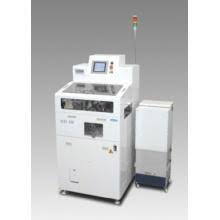 And dust adhering to the substrate was cleaned by the brush and the adhesive roller
Feature
● Clean the end face and the front and back surfaces of the substrate.
● end surface + surface / back surface of the substrate will be cleaned by the brush.
● For fine dust, and then removed by the adhesive roller.
● depending on the model read, operation mode, the conveyor width, to switch the conditions such as the height of the brush.
● operation mode can be set to any.
Specifications