【TOSHIBA】TOSMICRON-CH4090FD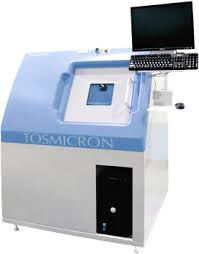 The TOSMICRON-CH4090FD is an easy-to-use model for inspecting chip circuit boards.
Incorporating Toshiba's X-ray sensing technology, the TOSMICRON-CH4090FD is ideal for inspecting solder on chip circuit boards and provides clear images of BGAs and soldering conditions.
The outstanding user interface simplifies and improves the efficiency of X-ray inspection.
Applications
Chip mounted boards
BGAs
electronic parts
devices
sensors
resins
Feature
High-performance X-ray generator
The TOSMICRON-CH4090FD incorporates a micro-focus sealed-tube X-ray generator with an output of 90 kV.
This X-ray generator is maintenance-free and easy to handle.
Flat panel detector
With a flat panel detector that provides high image rendering capability, the TOSMICRON-CH4090FD delivers clear images without distortion.
Multi-angle inspection
The TOSMICRON-CH4090FD can capture images along the X, Y, and Z axes as well as at oblique angles.
Rich features
The TOSMICRON-CH4090FD has a range of features, including tracking, mapping, and BGA void measurement functions.
Specifications
Key Specifications
Model
TOSMICRON-CH4090FD
X-ray generator
90kV
X-ray focal spot size
5μm
X-ray detector
Flat panel detector (FPD)
Magnification
Approx. x160
Sample table size
400×350 mm
Main unit external dimensions (W×D×H)
1050×1050×1430 mm
Main unit weight
Approx. 620 kg