【Roland DG】MDX-40A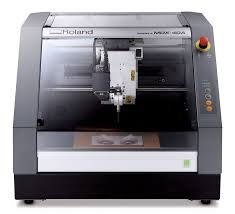 An intuitive and easy-to-use Subtractive Rapid Prototyping (SRP) device, the small footprint MDX-40A fits into any Fab Lab, workshop, office or classroom and allows both novice and advanced users to create precision 3D models. Built for designers, engineers and students who work in fast-paced environments, the speed, versatility and convenience of the MDX-40A put you in complete control.
Feature
SRP Player CAM Software
SRP Player was created to make milling easier for users of all abilities, enabling quick and precise production of prototypes using an easy five-step process and intuitive workflow. With the MDX-40A and SRP Player, you can produce superior parts with smooth surfaces and accurate, tight-fit precision. SRP Player accepts a wide range of file formats, including industry standard .STL files.
ClickMill
ClickMill Software allows direct control of the MDX-40A for surfacing, drilling holes, cutting pockets and other finishing processes, all without accessing CAD or CAM software.
G Code Support
The MDX-40A supports G-code NC programming language, making it well suited for both professional and educational applications.

Specifications
MODEL
MDX-40A
Acceptable materials
Resins such as chemical wood and modeling wax (metal not supported)
X, Y, and Z strokes
12 (X) x 12 (Y) x 4-1/8 (Z) in.
(305 (X) x 305 (Y) x 105 (Z) mm)
Distance from spindle tip to table
Maximum 123 mm (4-13/16 in.)
Table size
12 (W) x 12 (D) in.
(305 (W) x 305 (D) mm)
Loadable workpiece weight
8.8 lb (4 kg)
XYZ-axis motor
Stepping motor
Feed rate
XY-axis: 0.0039 to 1.9 in./s (0.1 to 50 mm/sec.),
Z-axis: 0.0039 to 1.1 in./s (0.1 to 30 mm/sec.)
Software resolution
NC-code: 0.000039 in./step (0.001mm/step),
RML-1: 0.00039 in./step (0.01 mm/step)(RML-1)
Mechanical resolution
0.00008 in./step (0.002 mm/step)(Micro-step)
Spindle motor
Brushless DC motor, Maximum 100 W
Spindle rotation
4500 to 15000 rpm
Tool chuck
Collet
Interface
USB (compliant with Universal Serial Bus Specification Revision 1.1)
Power supply
Voltage and frequency
AC100 to 240 +/-10%, 50/60 Hz
Required power capacity
2.1 A
Power consumption
Approx. 210W
Acoustic noise level
No-load operation: 56 dB (A) or less, Standby: 42 dB (A) or less
Dimensions
26-3/8 (W) x 29-15/16 (D) x 21-13/16 (H) in.
669 (W) x 760 (D) x 554 (H) mm
Weight
143.3 lb (65 kg)
Operation temperature
41 to 104°F (5 to 40°C)
Operation humidity
35 to 80% (no condensation)
Included items
Power cord, power plug adapter, USB cable, collet, Z0 sensor, hexagonal wrench, hexagonal screw drivers, spanners, Roland